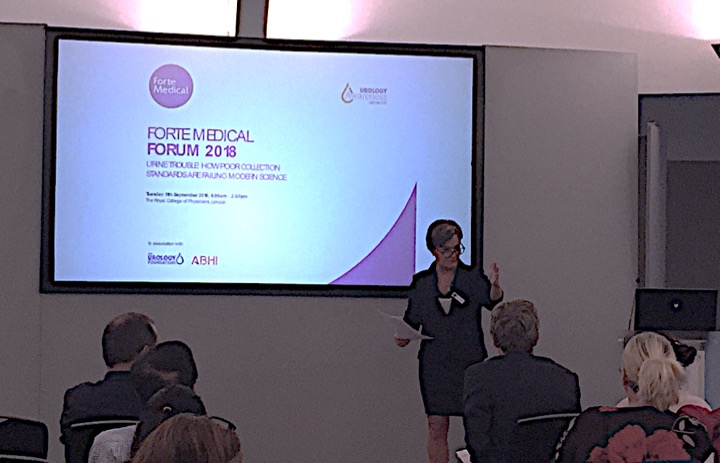 A Taster From the CEO On Our Forum 2018
On 11th September, delegates from microbiology, patient safety, urology, Emergency and antenatal medicine gathered at the RCP, London to hear Forte Medical Forum speakers and panel discuss the value of accurate diagnoses.
Well, they didn't just listen, many took part as the Q&A session evolved into a lively conversation about urine; believe me, there were some impassioned views from lab and frontline professionals to Consultants and patient groups.
It seems all parties agree: urine is the perceived poor relation to blood, yet is a far more common specimen, used for arguably a greater variety of diagnoses; it is also cheaper and less invasive to collect.
Much of today's discussion focused on the reasons for this medically pitiful overlooking of an essential and invaluable basic diagnostic tool. It is not for me to reveal here the thrust of many of the strong views held as these will be released on film and by way of VoxPop interviews in days and weeks to come.
What I can tell you is that Forte Medical is on to something big; we always have been, yet bringing innovation into the nation's health providers is no small task. Piers Ricketts, CEO of the Eastern AHSN asked me why Forte Medical makes such an effort to disseminate lessons from our journey to others.
The answer is simple: we have been at the forefront of delivering innovation in an overlooked, often ignored and unglamourous area of science, medicine and public health. One of the biggest rewards is to know that our experience can mitigate the struggle of those innovators coming along behind us.
If, whilst changing paradigms around basic medicine, we can forge a clearer path for the next generation, then this will deliver a second reward – for no SME, no young business should have to spend twelve years and £2.8m of privately generated investment to deliver £millions in desperately needed cost savings to a publicly funded health system, and even more importantly, to save lives.
This is not a chest-beating exercise, it is a genuine plea to the NHS to exploit the invaluable work of the AHSN Network and the National Institute for Heatlh Research (NIHR) to improve, to innovate, to transform and do what it already does so well even better, at lower cost.
"All" it takes is a little collaboration and belief between innovator and healthcare provider; the army of frontline staff, clinicians and consultants that have worked with us over the years show that it can be done.
Now we must work on the transfer of innovation into adoption and growth. While we persuade the medical powers that be that wee matters, this translation piece is where the expertise of all the wonderful AHSNs lie. Mr Ricketts and colleagues: over to you!
A full overview of the event will be published in the next couple of weeks – if you would like to be sent a copy please email: forum@forte-medical.com
https://forte-medical.co.uk/wp-content/uploads/2020/04/46.jpg
463
720
Forte Medical
https://forte-medical.co.uk/wp-content/uploads/2023/09/forte_logo_web-300x118-1.png
Forte Medical
2018-09-12 10:18:14
2020-09-14 10:38:08
A Taster From the CEO On Our Forum 2018